Batiking Pioneer, Dr. Leo Twiggs, To Present Artist Lecture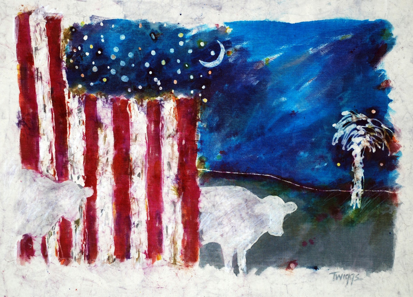 When Dr. Leo Twiggs began experimenting with batiking, or creating artwork on cloth with a wax-resist dyeing technique, he had no idea that he would later be called a pioneer.
When he began testing the process, there were no instructional books on batiking. To create his work, Dr. Twiggs applies wax to fabric (he prefers cotton) and then dips the fabric into dye. The areas covered by wax do not absorb color, and the finished pieces vary widely.
Dr. Twiggs compares his work to the tone of jazz music because of the "mellowness of color." He also is influenced by the surfaces from his childhood–cracked, weathered and old. He believes "oldness has a dignity" and tries to replicate that in his work. This is how he began creating flags 15 years ago. Old flags found in storage often have holes, tears and rips.
His blog describes his subject matter:
Twiggs addresses broader themes, including race, black culture, politics and relationships between generations. He does so through modern imagery and narrative scenes that seldom are straightforward snapshots but abstracted, symbolic tableaux dominated by shapes, lines and fields of color.
During his Artist Lecture at the Lake City Library Community Center on Friday, April 26 from 6 to 7 p.m., he will have work on display, will host a demonstration on batiking and describe where his inspiration comes from.